I used to have Core Temp installed and working fine then recently I started getting "Not Working" dialogues so decided to uninstall and update.
No luck.
Here is what I get when I try to run either installer ( direct download or 'More downloads' 32 zip ):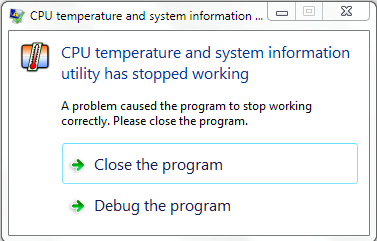 I have also tried running either as administrator and as user with admin rights. Same story.
I have chosen the "Debug the program" option a couple of times but have no idea where to find the results of this.
Any ideas anyone?
Running Windows7 all up to date. AMD 64 Athlon X2.