I have a X2 BE-2400 CPU with Scythe Mugen (new Ninja version) cooler on Asus M2N-Sli Deluxe mainboard. Plenty cooling and airflow in my Stacker.
Core Temp gives me these readings (idle), core 1; 1 degrees Celsius, core 2; -3 degrees Celsius! At 100% load (Primer) it doesnt go higher than 15 degrees Celsius. I know the BE-2400 is energy efficient (45 watts) and a lot cooler than the normal X2 CPU's, but this doesnt seem right.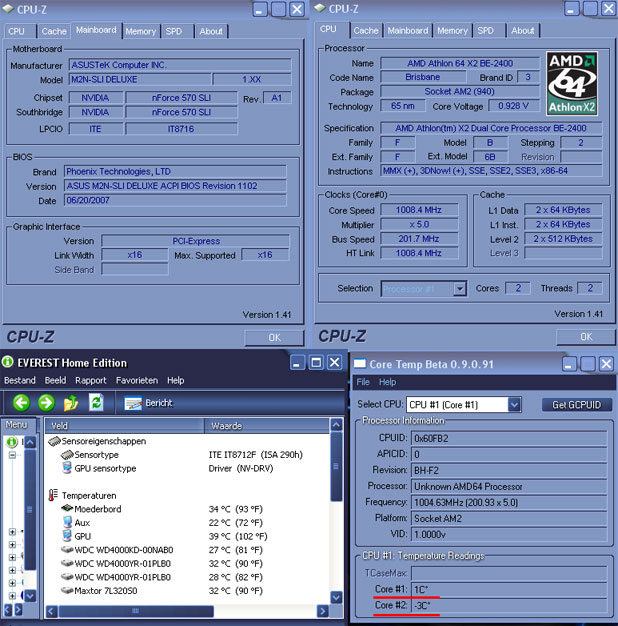 Other tools (like Everest in the image) don't even read CPU temperature, or give all different values. Speedfan gave normal readings for all components except CPU, it did have an 'unknown' temp (most likely the 'unknown' CPU) telling me it had reached boiling point!
Also; even though Core Temp might not be accurate for this CPU, there is a difference between the two core temperatures. My old X2 4200+ had the same thing; idle it had like 3 or 4 degrees difference, at 100% load temp differences between cores were as high as 15 degrees... is this a common issue for Athlon X2's???
Of course without reliable temperature monitoring any OC is off limits, so it's running in default Cool 'n' Quiet mode now. Any help, info or suggestions are welcome, thanks in advance!
SJ
Ps; tried newer versions of Core Temp but it crashed my PC