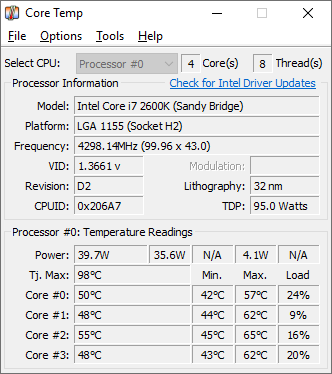 Core Temp is a compact, no fuss, small footprint, yet powerful program to monitor processor temperature and other vital information.
What makes Core Temp unique is the way it works. It is capable of displaying a temperature of each individual core of every processor in your system!
You can see temperature fluctuations in real time with varying workloads. Core Temp is also motherboard agnostic.

All major processor manufacturers have implemented a "DTS" (Digital Thermal Sensor) in their products. The DTS provides more accurate and higher resolution temperature readings than conventional onboard thermal sensors. (How does it work?).
This feature is supported by all recent x86 processors. Processors by Intel, AMD and VIA are supported. A complete list of supported processors is available.
Core Temp is easy to use, while also enabling a high level of customization and expandability.
Core Temp provides a platform for plug-ins, which allows developers to add new features and extend its functionality. You can find our plug-ins and add-ons here.
If you are a developer and you are interested in creating your own addition, please see the developer's page.
---

Core Temp Requirements
Operating System: Microsoft Windows XP, Vista, 7, 8, 10, 2003 Server, 2008 Server (R2), 2012 Server.
Processor: Intel, AMD or VIA x86 based processor.

---

Core Temp goes mobile!
Have you ever wished that you could keep an eye on your systems while you were out of home or the office?
If you have an Android or Windows Phone device, now you can! Click here for more information.

---

Core Temp Gadget and Windows Media Center addon for Windows 7 and Vista.
Recently I've released a new version of the Core Temp Gadget, completely overhauled.
The new version includes a graph view, listing processor load or temperature as well as memory utilization.
The readings are now color coded and they are user adjustable from the Options screen. Among these improvements the gadget can be resized and the information text above the readings can be hidden if so desired.
You can download Core Temp Gadget and CoreTempMC from the Add Ons page.


CoreTempMC is a Windows Media Center add-on for Windows 7 and Vista. It allows you to view information from Core Temp right from the Media Center interface using your remote. In addition it also displays the memory utilization.

---

Version 1.11 - 4th November, 2017

- New: Support for AMD EPYC (Naples) processors, Stoney Ridge APUs.
- New: Multiple processor group support. Fixes detection of CPUs on multi-socket systems with more than a total of 64 threads.
- New: Support for Intel Coffee Lake, Denverton, Gemini Lake.
- New: Support for Intel Xeon Phi (untested).

- Fix: AMD processor or core recognition issues on multiple generations.
- Fix: Some AMD processors reported incorrect Max temperatures when other hardware monitoring utilities are used.
- Fix: Power detection on multiprocessor Intel machines.
- Fix: Correct topology information on high-end, high-core systems.
- Fix: Check for updates on older operating systems.
- Fix: Settings window Tab control background when themes are disabled in Windows.
- Fix: L1 Instruction cache was reported as L1 Unified cache on most processors.
- Fix: L2 cache was incorrectly reported on newer VIA processors.
- Fix: Multiple other VIA related improvements and fixes.